Product Description
The Basilica of S.Luca is one of the symbols of the city ; situated on the Monte Guardia,  the Sanctuary connects to the city center through the  longest continuous portico in the world,  4 km and 666 arcades.
San Luca Express is the new tourist line created to connect Bologna city center to the enchanting  Basilica , situated in one of the hill surrounding the city.
PRACTICAL INFO 
FROM 8th JANUARY TO 28th FEBRUARY 2019 

tour 

available

 ONLY ON FRIDAY, SATURDAY, SUNDAY and MONDAY
FROM 1st MARCH on duty EVERY DAY
Complete tour lenght 

1 hour

, 10 departures every day
Tour prices (return trip) :
– 10 euro  Ordinary ticket – Adults
–  5 euro   Reduced ticket – children 6 to 10 yo, disabled and helper
–  3 euro    Kids 0-5 years old
Tickets available on board by cash, all tickets are non-transferable
–        Piazza Maggiore
–        Piazza Malpighi (su richiesta)
–        Basilica di S.Luca
Hop on – Hop off tour;

 pay 

Attention

:

 once you get off the bus, getting on again is possible only if free seats are available on board.
Download our timetable and map clicking on the image below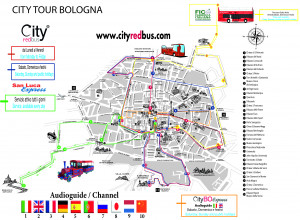 HIGHLIGHTS
Visit the Sanctuary and come back when you prefer
Discover the city from a new perspective
Visit one of the most important attractions of Bologna
Keep your ticket and get a discount on the other City Red Bus lines
RATES INCLUDE
San Luca Express tour 1 day

Multilingual Audioguide

 in 8 different languages
On board assistance provided by highly qualified staff
Info:
Office:+39 051 37.94.52 (only working days)   /  Mobile: +39 366 61.61.319