Destination: the heart of Bologna
In the footsteps of  "San Luca Express", the nice red-blue tourist train that both "Bolognesi" and tourists from all over the world enjoy to reach, comfortably seated, the Basilica of San Luca, on April 2014 another tourist train entered into service, through the historic city center, for allowing everybody, especially children, elderly or disabled people to reach the pedestrian zone.
It's a new tourist train connecting the top of pedestrian "T" zone, a service that combines City Red Bus qualified experience in tourist transport sector with Bologna administration attention for sustainable mobility.
PATH: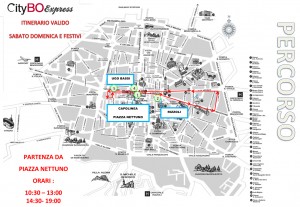 OPERATING ON SATURDAY, SUNDAY AND PUBLIC HOLIDAYS
Tickets on board or following the link –> CITY BO EXPRESS TICKETS
Prices:
€ 6,00 ordinary ticket;
€ 3,00 reduced ticket (kids 0-5 years old, helper of disabled people)
free access for disabled people.
The ticket gives entitlement to one complete tour.
TIMETABLE:  Saturday, Sunday and Public Holidays  from 10:30 a.m to 1:30 p.m  (last departure at 1:00 p.m.)  and from 2:30 to 7:00 p.m (last departure at 6:30 p.m.)

Moreover, the line  CITY CENTER TOUR
is available from Monday to Friday, until September the 15th.