We suggest to catch the San Luca Express in

Piazza Maggiore
For groups of 10 and more, advance booking is recommended

, otherwise seats on board won't be guaranteed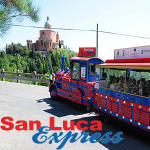 ---
San Luca Express is the new tourist train line created to connect the Bologna's city center with the enchanting Basilica di San Luca, immersed in the splendor of the Bologna's hills.
Our service is available everyday by a tourist train (OCCASIONALLY, for maintenance reasons,  THE SERVICE COULD BE OPERATED BY AN OPEN 19 SEATS MINIBUS instead of the tourist train) and it's equipped with an integrated audio guide that will give you all the information about the history of Bologna and its curiosities, and that you'll be able to listen with our headphones in 10 different languages: Italian, English, German, French, Russian, Spanish, Portuguese, Dutch, Japanese and Chinese.

You'll enjoy a fun and exciting trip along the beautiful hills of Bologna and will visit the magnificent Basilica di San Luca with its wonderful arched gallery and stunning views of the city.
The tour lasts one hour and starts at Piazza Maggiore (exchange stop with Bologna City Tour Bus).
Evening and special designed tours can be booked and organized in advance.
To start to live this fantastic tour, the link presents our red-blue train.
Where was
the idea
of
San
Luca
Express
service born
?
On
 7 
November 1976
the cable car
 wich was going through the
via
Porrettana until the Basilica, was removed
. 
It was a
fascinating
ecological system
for
remedy
the winding
road leading
up
the hill
. 
However,
so far
had not
found
an effective alternative
that could offer
 the same 
peculiarides
thereof;especially
on weekends
, when 
the crowd
 wanted 
to visit
the Basilica of
San
Luca and was going with 
the
car, the caos was 
a mess.
In addition, our market research conducted in the City Red Bus passengers have shown a strong demand for information on how to reach the Basilica ofSan Luca, with a similar service. Therefore, our idea of creating a modern train to get to the Basilica of San Luca. A transport attractive, comfortable, discreet and effective. The productors are DOTTO TRAINS, a provider of tourist trains worldwide.
The service will be integrated with the City Red Bus, coinciding with run times to swap in the Malpighi piazza, where tour buses arriving from all over Italy and Europe, creating the possibility of a reduced price ticket for the two lines.
The access route that we specified, creates an accurate assessment, made ​​to satisfy both those who want to enter the Basilica di s. Luca on religious grounds, which for tourist reasons.
 
You will visit
a wide
area of ​​the city
of
great interest such as
Piazza
S.
Francesco
, 
Piazza
di
Porta
Zaragoza
, 
Villa
Benni
, 
Villa
Spada
(
with 
Tapestry Museum
), 
the beautiful view
 of 
Meloncello
arc
…
On the way back
, 
you could see
all
the architectural structure
Dall'Ara
Stadium
.